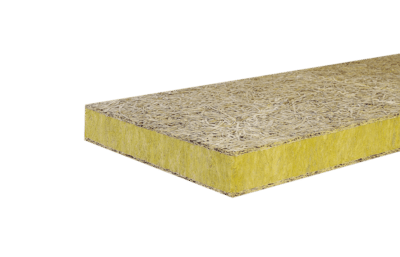 Cement-bound tripple-layer board according to EN 13168 with mineral wool core.
Characteristics:
Product type according to standard ÖNORM B 6000 WW-MW-WWH 30
Euroclass A2
Excellent thermal insulation
High vapor permeability
Soundproofing
Universal plaster base
Applications:
For insulation of ceilings and walls.
For insulation of facades as part of an External thermal insulation composite system (ETICS).
Packaging:
In full packaging units on factory pallets,
dry storage required.
Weatherproof packaging on request.
Delivery program Standard
Thickness
mm
Length
mm
Width
mm
Weight
approx. kg/m²
RD-Value
(m²K/W)
m²/
Pallet
50
2000
500
13,0
1,21
44
75
2000
500
16,0
1,88
30
100
2000
500
19,0
2,56
22
125
2000
500
22,0
3,23
18
150
2000
500
24,0
3,91
16
175
2000
500
27,0
4,59
12
200
2000
500
30,0
5,26
10
Delivery program ETICS
Thickness
mm
Length
mm
Width
mm
Weight
approx. kg/m2
RD-Value
(m² K/W)
m²/
Pallet
50
1000
500
13,0
1,21
44
75
1000
500
16,0
1,88
30
100
1000
500
19,0
2,56
22
125
1000
500
22,0
3,23
18
150
1000
500
24,0
3,91
16
175
1000
500
27,0
4,59
12
200
1000
500
30,0
5,26
10