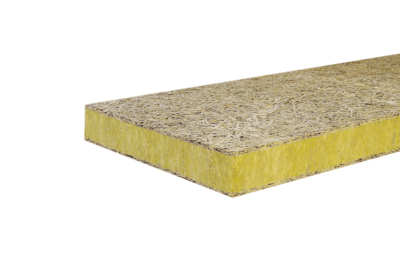 Cement-bound tripple-layer board according to EN 13168 with mineral wool core – highly effective acoustic panel. 
Characteristics

:
Product type according to standard ÖNORM B 6000 WW-MW-WW

Improvement of the room acoustics

Highly absorbent

Fire class B
Applications

:
Ceiling and wall cladding in offices, schools, residential buildings, restaurants, official buildings, event halls, multi-purpose halls, industrial halls, commercial buildings, sound studios, production halls, carpentry shops, metalworking companies, sawmills, planing mills, printing shops, pumping stations, beverage bottling plants, discos, underground garages, underground car park exits, loggia ceilings.
Installation note

:
For insertion in suspended substructures; Direct mounting on substructures made of metal and wood.
Note

:
Store panels flat and protect from moisture! Slight color fluctuations in the natural version cannot be ruled out due to the raw material wood. The maximum span is 500 mm regardless of whether it is mounted on the ceiling or wall.
Delivery program
Thickness
mm
Length Standard
mm
Length
mm
Weight
ca. kg/m²
Width
mm
50
2000
100
12
500
75
2000
100
15
500
100
2000
100
17
500
Dimensional tolerances

:
Insulation: according to ÖNORM B 6000 WW-MW-WW
Production: +/– 2 mm