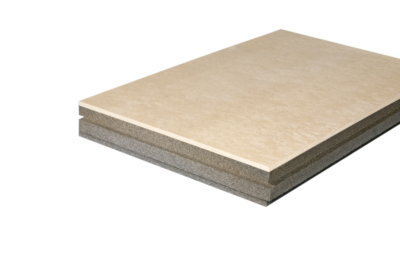 Composite board made of EPS foam according to EN 13163
with tongue and groove and non-combustible 10 mm thick special board.
Characteristics:
Euroclass B
Stable, flat surface
Simple installation
Light weight
Applications:
Subsequent thermal insulation of basement ceilings.
Mounting accessories pages 20–23.
Packaging:
In full packaging units on factory pallets (Deposite € 12,00/Stk.),
dry storage required.
Weatherproof packaging for a surcharge € 3,45/Pal.
Delivery program
Thickness
mm
Length*
mm
Width*
mm
Weight
approx. kg/m²
RD-Value
(m²K/W)
m²/
Pallet
50
1020
645
9
1,40
43,56
75
1020
645
10
2,20
29,70
100
1020
645
11
3,00
23,76
125
1020
645
12
3,80
17,82
* Coverage messure: 1000 x 625 mm (outer dimension = Invoice messure: 1020 x 645 mm)
Technical characteristics:
Vapour resistivity EPS: 50 µ
Vapour resistivity Cover board: 10 µ
Euroclass according to EN 13501-1: B