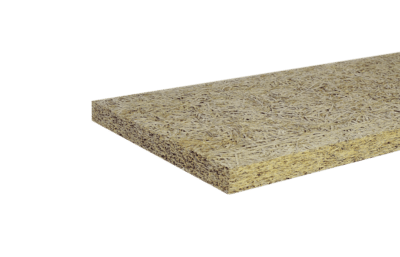 Cement-bonded wood wool single-layer board according to EN 13168 with increased density and dimensional accuracy.
Characteristics:
Product type according to standard ÖNORM B 6000 WW und WW-PT
heat-storing
universal plaster base
high vapor permeability
Euroclass B
naturally resistant to fungus and insects
Applications:
For the inside and outside planking of wooden constructions such as rafters, beams, etc.
25 und 35 mm – planking of wooden constructions with full-surface substructure.
50 mm – inside and outside planking of wooden constructions.
75 and 100 mm – erection of single and double-layer partition walls.
All compact boards must be glued together in the bed- and butt joints using a suitable adhesive.
Mounting accessories pages 22–23.
Packaging:
In full packaging units on factory pallets (Deposite € 12,00/pcs.),
dry storage required.
Weatherproof packaging for a surcharge € 3,45 /Pal.
Delivery program
Thickness
mm
Length
mm
Width
mm
Weight
approx. kg/m²
RD-Value
(m²K/W)
m²/
Pallet
25
2000
500
12,0
0,30
80
35
2000
500
15,5
0,40
60
50
2000
500
21,0
0,55
44
75
1000
500
25,0
0,85
30
100
1000
500
32,0
1,15
22